1-1-Rabbit discovery!
Alice's Story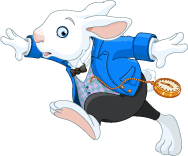 Spare Alice had been sleeping in the bank. Suddenly one rabbits crossed.
If always, it is indifferent of Alice in the rabbit, but is different today.
"That rabbit a little strange."
With a clock
And "hurry unless! If you do not hurry!"
It is're talking with.
Quiz: Aha experience movies
Photo that is reflected is one rabbits.
Part of this picture is gradually changing. Please find the change to have part!
This is the first problem, But the difficulty is very high('°д°`)
Hint
It focuses on the right side of the photo!
Answer
Color of the rabbit is going to change white!
IF the answer is known, let's share!
関連記事